Boulder, Colorado Real Estate and Community Resources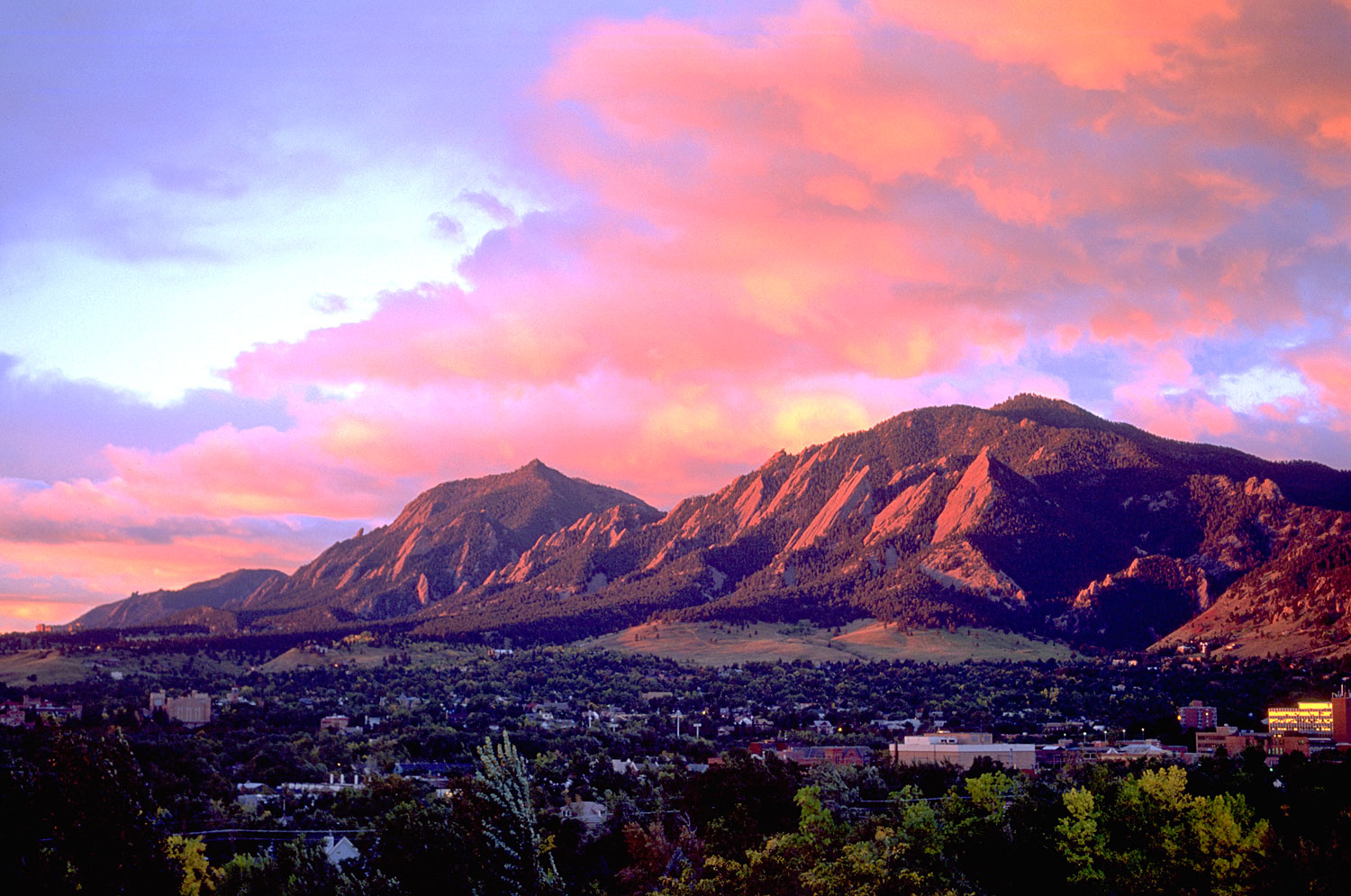 25 miles Northwest of Denver, resting at the base of the Rocky Mountain foothills at an elevation of 5,430 feet lies Boulder, Colorado. Boulder is home to the main campus of the University of Colorado, and annually ranks among the top in the nation for community health, quality of life, education, and the arts. Discover for yourself why over 100,000 Coloradans call Boulder home.
Shopping and Dining in Boulder
85% of the over 1000 businesses in Downtown Boulder are locally owned and operated. Pearl Street Mall, a favorite among tourists and native Coloradans alike, offers visitors a diverse range of shopping and dining experiences. Shops offer everything from local art, jewelry, shoes and clothing, and books and music, to sporting goods.
Have a taste for Italian, Asian, Indian or Mexican? Looking for a specialty restaurant featuring breakfast, patio seating, or maybe lunch under $5? Downtown Boulder hosts pizzerias, brewpubs, coffee houses, and the best of casual and fine dining.
Parks and Recreation
Boulder was built for fitness. In addition to the extensive presence of on-street bike lanes, the city has over 59 miles of paved multi-use pathways and 78 underpasses for bicyclists and pedestrians.
Boulder Reservoir is a 700 acre multi-use water recreation and storage area maintained by the city providing drinking and irrigation water for the community, as well as supporting outdoor activities like skiing, fishing, swimming, boating, and wildlife viewing.
Flatirons Golf Course features a pro shop, practice facilities, instruction programs, and an 18-hole golf course.
The city of Boulder maintains three recreation centers supporting a variety of fitness activities like indoor and outdoor basketball courts, indoor pool, weight and cardio equipment, racquetball and tennis courts, soccer fields, outdoor inline hockey, and outdoor Frisbee golf course.
Home Economics
According to City-Data.com the median household income for Boulder homes from a 2011 study shows an annual income of $57,112 compared to $55,387 for all of Colorado.
Median values for homes and condos in Boulder during the same period were $501,800 compared to $233,700 for the rest of the state.
For current, up to date information on homes for sale in Boulder visit the links on this page under "Boulder Real Estate" or contact our office to set up an appointment.
Schools, Health, and Transportation
For more information on local elementary, middle, and high schools please visit the school resource links below under "More Information."
Colleges and Universities in Boulder include the University of Colorado at Boulder, Naropa University, Boulder College of Massage Therapy, Southwest Acupuncture College-Boulder, Montessori Education Center of the Rockies, and the Culinary School of the Rockies.
Other colleges and universities near Boulder include Front Range Community College in Westminster, Colorado School of Mines in Golden, Red Rocks Community College in Lakewood, and Community College of Denver, Metropolitan State College of Denver, and University of Colorado Denver, all three located (as you have already guessed) in Denver.
Hospitals in Boulder include Boulder Community Hospital, located at 1100 Balsam Avenue. Other hospitals and medical centers near Boulder include Centura Health-Avista Adventist Hospital in Louisville, Exempla Good Samaritan Medical Center in Lafayette, and Longmont United Hospital in Longmont.
Amtrak has a bus station in Boulder at 4401 N. Broadway.