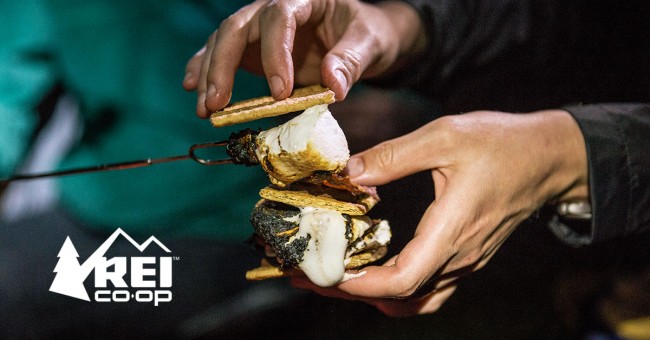 (Photo Credit: REI)
For the first time in the outdoor retailer giant's 78-year history, REI has partnered with the The Stanley Hotel to create outdoor experience, outings, classes and events throughout Rocky Mountain National Park. Activities are already being offered for visitors.
"It's the first such partnership in REI's 78-year history," stated Reed Rowley, Vice President of Grand Heritage Hotel Group.
The Stanley Hotel is a 140-room, Colonial Revival hotel in Estes Park, Colorado, just 5 miles into Rocky Mountain National Park. Though it is best known for it's vital role in Stephen King's novel, "The Shining", it has also been featured as one of America's most haunted hotels and boasts many famous visitor, magnificent architecture and beautiful backdrop.
REI's Outdoor School will staff instructors at an outdoor concierge location called 'REI Basecamp.' The vision is for them to host activities across the Stanley Hotels' property. The hotel has always had a commitment to wellness, which complements the way in which REI centers themselves around inspiring an outdoor-focused lifestyle.
"REI Basecamp is the first remote outdoor school for REI, which will create new opportunities for Stanley and Estes Park visitors to experience Rocky Mountain national Park," Rowley said. "It ties in nicely to the national park's centennial celebration as well."
Throughout the summer months, they plan to have a varied selection of adventures that people can take part in, one being hikes that include a gourmet backcountry meal. Whether you're interested in exploring the most popular trails that include waterfalls,  discovering sub-alpine lakes, or if whiskey & wine pairings pique your interest, the program will offer something for everyone and at every level of experience. At the Stanley Hotel, visitors can also learn about first-aid 101, learn how to navigate their phones for taking great photos, and how to climb a fourteener!
"From day outings that give hikers a fresh perspective about one of the country's beloved national parks, to sessions where participants can master the art of s'more making at a roaring campfire, we look forward to offering classes and events for all outdoor interests," says John Sheppard, REI's Divisional Vice President of Outdoor Programs.
Regularly scheduled and fully-guided hiking trips throughout RMNP are offered. Outings can take you through some of the most beautiful and near perfect locations in the area! Transportation, professional guides, natural interpretation and a gourmet lunch are included.

(Photo Credit: REI)
If you're looking to turn your adventure into a full day experience, you can delve deeper into geocaching, outdoor games and campfire socials. Fun ranges from phone photography to Wilderness 101.

(Photo Credit: REI)
After being out all day you're sure to work up an appetite. Enjoy homemade Little Man Ice Cream, lemonade, ice tea,  beer and wine and chili and chowder by the campfire of the REI Basecamp. For anyone who loves a good s'more, you'll have all the gourmet options one could dream of - choose from exotic flavors such as fireball whiskey & chocolate, Madagascar vanilla or toasted coconut...

(Photo Credit: REI)
REI's Basecamp is staffed by an Outdoor School instructor from 10am-6pm, Thursday and Sunday and 9am-9pm Friday and Saturday. Click here for more information!