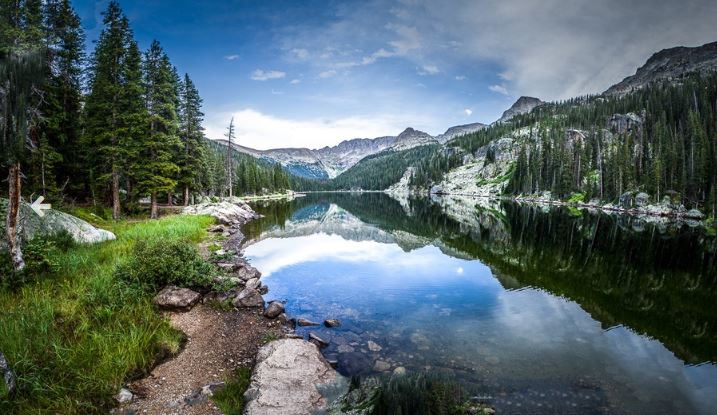 Rocky Mountain National Park is fondly regarded, both near and far, as one of the American West's must-see places in the United States. Some will believe that by simply driving the Trail Ridge Road, they've have seen the most that the park has to offer - but it simply isn't true! Taking in those sights is in fact fantastic, but it's merely a scratch on the surface of everything else that's hidden deeper in the parks.
With 355 miles of hiking trails, 150 mountain lakes, and 60 peaks higher over 12,000 feet, there are many overlooked, underrated and solitary places for the outdoor-lover to explore. Though some of them may be more difficult to reach than others, we've compiled a list of 5 hidden gems within Rocky Mountain National Park to check off your list this summer....
Lake Verna
Imagine being surrounded by forest that is also surrounded by distant granite walls, standing at the edge of a jewel-like lake - alone. This is the sort of experience that Lake Verna offers. You can reach it by heading 7 miles up the East Inlet Trail Head from Adam Falls, headed to Lake Verna and Spirit Lake. It is a strenuous hike (and a MAJOR calf-burning workout) at 7 miles one-way and roughly 2,000 feet in elevation gain. But the sights you'll be greeted with make it well worth the effort! There are several back country campsites you can stay at, making it the perfect base camp for additional day hikes, fishing or spending the weekend.

Coyote Valley Trail
This particular spot is best enjoyed during the sunset hours, well after the swarms of day-trippers have come and gone. In the summer months during the twilight hours, the birds, moose and elk are most active, which can make for great viewing - if you're relatively still and quiet! It is an easy hike that's just short of a mile, with very minimal gain in elevation.

(Photo Credit: Grand Lake Chamber)
Timber Lake
Timber Lake is mostly free of obstacles and provides beautiful scenery and the opportunity to spot wildlife. The trailhead is located further up Trail Ridge Road and is just short of the first hairpin curve. If visitors continue to climb steadily through the forest, the trail will lead you to an open alpine basin underneath Mount Ida. Many backcountry camping sites area available for campers, making it a great getaway spot to view the starry skies - and maybe even catch a meteor shower! You're likely to be greeted by wildflowers along Timber Lake's banks the next morning.

Lion Lakes via Wild Basin Trailhead
Lion Lake #1 and Lion Lake #2 are truly hidden gems. Following the path, you'll continue along the North St. Vrain Creek for much of the way as it winds through deep forest and past several waterfalls and cascades. It doesn't take long before you find yourself in open meadows with views of the jagged peaks belonging to Mount Alice. You can expect exceptional alpine landscapes if you journey to either of the Lion Lakes.


Lake Nanita
If escaping the crowds is your main priority, Lake Nanita via the North Inlet Trail Head may be just the thing for you. This is not an easy hike - at 21.6 miles round trip, it does take a certain level of commitment and time to complete. The nearest campsite from the lake is almost 3 miles down the trail, and therefor it does not get many visitors. As a result, the area is pristine and kept in it's beautiful, natural condition. Both Ptarmigan Mountain and Andrews Peak are visible lake-side, painting a mountain scene that simply cannot be rivaled.