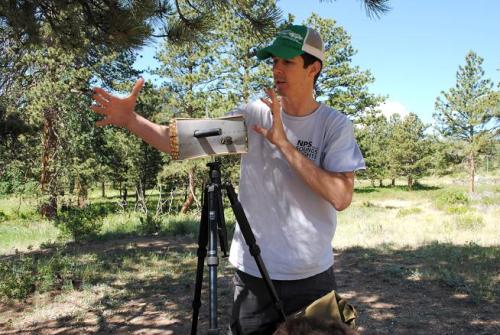 (Photo Credit: Pamela Johnson, Loveland Reporter-Herald)
Jacob Job has dedicated his life to the study of sound, and works for CSU and the National Parks Services Natural Sound & Night Skies Division. During the summer months of 2016, he's spent his time traveling through 125+ miles of the Rocky Mountain National Park wilderness, recording an array of noises in order to create a library. "If we lose some of these sounds, if we lose wildlife or lose a species, we lost a part of us," he expressed. "It's important."

Some of his recording experiences include moose, groupings of hummingbirds and even frog choruses. Using only one microphone, he captures what he describes as 'cameo sounds', which can be anything from the elk bugling to the wind whipping by - but there's a bigger picture to be heard! Not only does he pinpoint certain sounds in their most pure form, but he also records what he calls 'soundscape.' Using dual microphones, he's able to mirror ears and the way that people naturally pick up sound. His goal is to preserve small and big picture sounds in a couple different ways...
One is the opportunity to share the sensory experience with people who don't have access or the means to spend time in the backcountry. The second is to showcase the affects that the humans have in national parks - audibly, of course. In general, humans raise the ambient sound level 3-5 decibels, with the most impacted areas being in the east portions of the park. Job believes that making people aware is the first step to preserving the natural wonders of our wilderness, and ultimately make conservation in general more of a priority.
While sound of course adds a necessary dimension to day-to-day experiences, pure silence is also something that affects a person subconsciously as well as consciously. Sometimes, a lack of sound can be truly profound in itself. "The more you listen, the more you'll hear," says Job. "It's cheesy. It's corny, but it's true." Some of the quietest places he's been in the United States include Alaska, Haleakala National Park in Hawaii and the Great Sand Dunes in southern Colorado. "It's pushing the limits of our equipment. This is a place you can hear your heart beat. You can feel the pressure of the silence." What a fantastic notion!

If you've ever wondered what Rocky Mountain National Park's true voice sounds like, wonder no more. Jacob Job captured this audio of an afternoon thunderstorm passing over his campsite in Big Meadows. His SoundCloud station includes several other audio tracks from his time in the Rocky Mountain National Park, all of which offer a unique profile of the wilderness that is so beloved to Colorado.
"In every walk with nature one receives far more than he seeks." - John Muir