The Urban Dictionary defines "glamping" as:
Going camping, but with glamour. A combination of the two words. It's like regular camping , but with nicer things than usual, being warmer, and more comfortable. Glamping isn't done by usual outdoor types who climb mountains.
It's a relatively new concept that's taken off in rugged settings across the country. Glamping isn't only for the high maintenance; it can offer an outdoor, nature-filled experience for those who normally wouldn't consider trekking into the middle of the woods. Families with young children, older people who simply cannot sleep on the hard ground and function the next day, and those who simply want a brand new twist on the favorite American pastime of camping.
If you're still a skeptic, hear us out! Have we ever been glamping? Well, no... But we might consider it if we could visit one of these amazing spots on the edges of RMNP. Whether you only have time to jot up to Estes Park for the weekend or want to make a trip clear out to Grand Lake on the west side of the boundary, these glam camping spots provide beautiful scenery and comfy bedding.
Estes Park Glamping Sites
Mountain-Encircled Family Log Cabin
1 Unit | 3 night minimum stay | No pets | $206.70 per night
Estes Park, CO
Yes, it is a log cabin - but it's nestled in a spot that offers amazing views of the entire park! There is only one cabin with one spacious bedroom, one bathroom, and the ability to accommodate a maximum of 4 guests. The kitchen is fully equipped so guests can cook their meals conveniently, so this location is ideal for a family looking for seclusion in the mountains without giving up proximity to local shops, restaurants and attractions. Comes with a fireplace, jetted bathtub and a sitting patio area.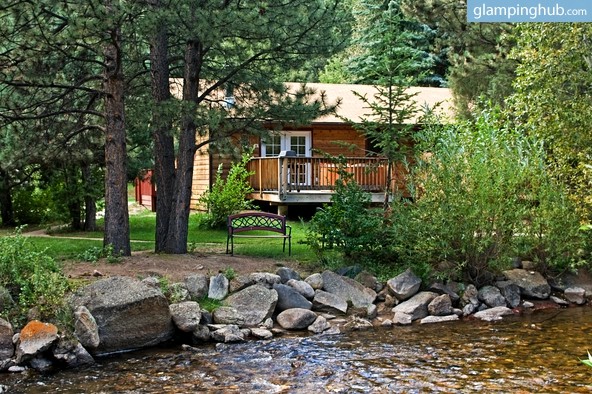 4 Units | 3 night minimum stay | From $254.40 per night
Estes Park, CO
If river-side is your style, look no further! These cabins sit on 29 acres along Fall River, amidst the trees in Estes Park. Spotting elk out the window in the mornings aren't uncommon at all. Though open all year round, summer is the most popular season with activities such as horseback riding, hiking, whitewater rafting down the Poudre River, and sampling ice cream in downtown Estes. Fall brings about color changes in the aspen trees and inspires the elk to enter rutting season. Winter offers many festivals, cross country skiing and an opportunity to curl up in front of the fireplace. Spring is often slow (and snowy) to start, but beautiful!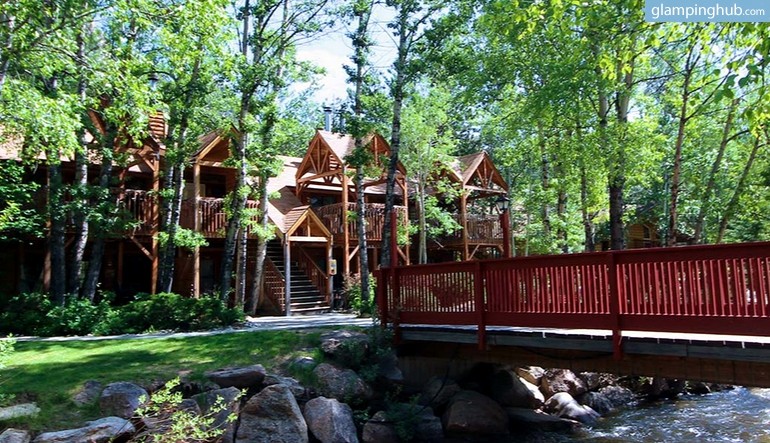 Grand Lake Glamping Sites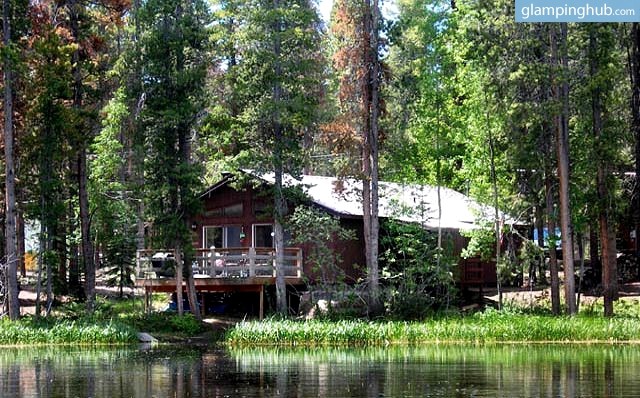 Remote Cabin Nestled in Nature
Grand Lake, CO
1 Unit | 3 night minimum stay | No pets | $222.60 per night
The pond that this cabin overlooks if frequently visited by moose and elk, which match the country decor to a T! Because it sleeps up to 8 people, this location would work well for a small family gathering or as a nature retreat for friends. Between a fully equipped kitchen, fireplace, outdoor deck, the average glamper should have everything they need.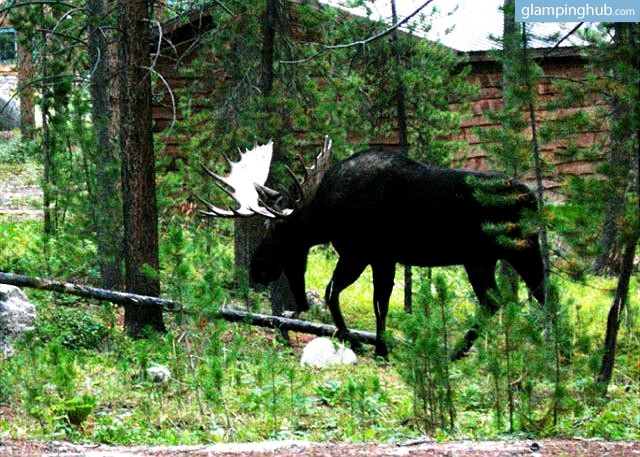 Cozy Cabin Overlooking Stunning Lake
Grand Lake, CO
1 Unit | 3 night minimum stay | No pets  | $530 per night
In true glamping style, this cabin has been newly remodeled to keep visitors comfortable. Do you have a boat? Bring it! There is a boat dock and a small private beach just a short walk from the front door. Because there is plenty of space for 8 inside the home, there is also a fire pit outside if you decide to bring the party out into the night!